« Back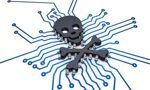 Cyber Security onboard Ships
23.02.2018 12:30
In order to improve Cyber Security on ships, we offer information on the new requirements for Cyber Security Onboard Ships.
The plans and procedures of the shipping company's risk management information security should be aligned with existing procedures for risk management are regulated by codes of ISM code and ISPS.
In the framework of the Safety Management System (SMS) our company offers You to develop appropriate plans and procedures for vessel security on Board ships (Cyber Security Management Plan).