« Back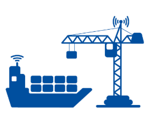 Cybersecurity for Ports and Port Facilities
14.09.2021 23:47
The IAPH Cybersecurity Guidelines provided herein are based on successes achieved by ports and port facilities from around the world and are designed to assist executives in the port industry in their effort to foster greater collaboration within their organizations, as well as more broadly with their local, regional, national, and international partners and stakeholders.
This first edition of IAPH Cybersecurity Guidelines for Ports and Port Authorities serves this purpose. It also serves as a crucial, neutral document for senior executive decision makers at ports who need to be neither technical nor savvy in the latest cyber trends, but who have to find answers to the following questions to safeguard the business viability of their organization:
▪ How can I establish the true financial, commercial & operational impact of a cyber-attack?
▪ How ready is my organization to prevent, stop and recover from a cyber-attack?
▪ What do I need in terms of resources to effectively manage the risk of a cyber-attack?
This document will evolve to meet the challenge of answering these questions, provided by the port industry's leading experts on this critical subject.