« Back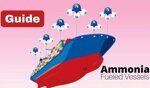 New Guide to Ammonia Fueled Vessels
08.11.2021 11:00
The new Guide for Ammonia-Fueled Vessels sets out Classification design criteria for the arrangements, construction, installation and survey of machinery, equipment and systems for vessels operating with ammonia as fuel to minimize risks to the vessel, crew and the environment.
The international regulations pertaining to gas or other low flashpoint fueled ships, other than those covered by the IGC Code, are those included in the IMO International Code of Safety for Ships Using Gases or Other Low Flashpoint Fuels (IGF Code), which entered into force on 1 January 2017. The IGF Code has been incorporated along with ABS requirements in Part 5C, Chapter 13 of the ABS Rules for Building and Classing Marine Vessels (Marine Vessel Rules).
The IGF Code currently only includes detailed prescriptive requirements for natural gas (methane) applications. All other low flashpoint fuels or gases must demonstrate an equivalent level of safety by application of the Alternative Design methodology as specified in International Convention for the Safety of Life at Sea (SOLAS) Chapter II-1 Regulation 55 and guidelines referenced by footnote MSC.1/Circ.1212 or associated guidelines MSC.1/Circ.1455.

Where other prescriptive IMO requirements exist for particular gases or other low flashpoint fuels, either by regulation, or as interim guidelines, these may be applied in lieu of the Alternative Design criteria, subject to agreement by the flag Administration. At present, no such IMO instruments exist for the use of anhydrous ammonia as fuel.
This Guide provides guidance for the design, construction, and survey of vessels utilizing anhydrous ammonia (ammonia) as fuel. This guide is focused on systems and arrangements provided for the use of ammonia for propulsion and auxiliary systems.