« Back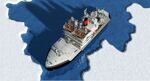 Polar Code
04.03.2018 14:53
Our company IBICON provides you with information on the International Code for Ships Operating in Polar Waters (Polar Code). The International Maritime Organization (IMO) has adopted a mandatory Polar Code to provide for safe ship operation and environmental protection in the polar regions.
New ships (ships built on or after 1 January 2017) must comply with Part I upon delivery.

Existing ships (ships built before 1 January 2017) must comply with Part I (SOLAS, STCW), Part II (MARPOL) by their first intermediate or renewal survey after 1 January 2018.
In order to ensure that your vessels comply with the requirements of the Polar Code, IBICON offers services for the development of ship documentation for vessels operated in polar waters:
Operational Assessment;

Polar Water Operational Manual (PWOM).