« Back
Safety Management System (SMS)
22.04.2018 00:35
In order to help ship owners and operators to deal with Safety Management System (SMS) our company IBICON suggest You the information on SMS.
The most significant from the point of view of influence on the shipping industry, was amended in 2010 and 2015. In 2010 (MSC.273(85)) was amended in relation to the Risk Assessment and in 2015 (MSC.353 (92)) the ISM Code has been significantly modified on the basis of 20 years of practical application by shipping companies.

Based on our experience in the development, implementation and updating of the ISM Code, IBICON offers practical solutions in the field of construction of the SMS.
In accordance with paragraph 1.2.3 the ISM Code, the SMS should ensure:
.1 compliance with mandatory rules and regulations; and
.2 that applicable codes, guidelines and standards recommended by the Organization, Administrations, classification societies and maritime industry organizations are taken into account. (Refer to the "List of codes, recommendations, guidelines and other safety and security-related non-mandatory instruments (MSC.1/Circ.1371)).
Taking into account the fact that the changes and amendments made to the ISM Code refer to IMO resolutions and other recommendations within the framework of the structure of the ISM Code, our company offers a modular structure of the SMS. Each module (section) proposed SMS contains the requirements of a particular paragraph ISM Code.
The documentation is divided into shore and ship sets.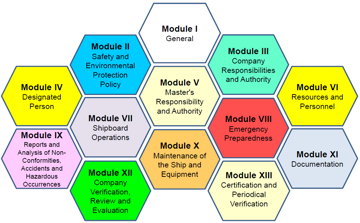 Functioning of modular SMS is carried out step by step:
1. Review of mandatory rules and regulations;
2. Distribution of IMO resolutions and circulars by SMS-modules (ISM Code sections);
3. Introduction of requirements into internal normative documents of the modular SMS;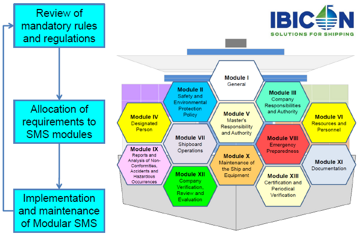 Each SMS-module is also divided into more detailed sections. For example, the Ship Operations module is divided into:
operations in preparation for sailing,
operations at sea,
preparation for arrival at port,
cargo operations, etc.
IBICON offers the development, analysis, review and updating of your SMS in accordance with the latest changes in international and national maritime law.